Waterloo's Man of Steel, Sculptor Jerry Schmidt    —Pat Meade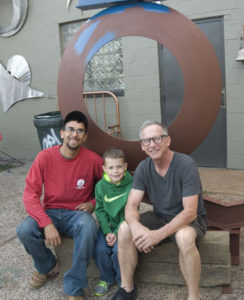 As I arrived at Jerry Schmidt's studio, the large-scale outdoor sculptures are hard to miss, including an interactive 11′ tall steel and stainless steel light switch, perhaps a metaphor for his life. His front door (aka loading dock) is guarded by Roxie, his faithful pooch. Once inside, each metal abstract sculpture seems to be pulling for attention like a magnet. Schmidt's story is gritty and raw like his steel abstracts.
Schmidt, now 58, is humbled by a hard life he turned around. His parents divorced when he was 11, and while Schmidt lived with his mom and siblings in Mentor Headlands, he spent much of his time with his dad in Little Italy (Murray Hill). His dad, renowned metal sculptor Fred Schmidt, treated him more like an apprentice teaching him welding and metal sculpting since he was 13.
"My parents never fought—they just couldn't live together." As Schmidt opened up and referred to his dad as a genius, you could see the memories flooding back to him as he paused for a moment to maintain his composure; he said there was a dark side to his father which took its toll on young Schmidt. "I was considered a bad boy in school; I drank, did drugs and became an alcoholic but I've been sober for 26 years and I'm lucky to have two children and a grandson." When Schmidt hit bottom, he dealt with his version of kryptonite. Coming clean helped Schmidt break the cycle of hatred and he replaced it with a foundation of love to serve as a light for others. "When my mom showed us love, my dad saw it as weakness. At the time, I didn't understand, but looking back, I needed to live with my mom, brother and sister so I could learn about love."
The German surname 'Schmidt' means metalworker and like the dynamic duo, young Schmidt collaborated with his dad on commissioned pieces (e.g. Columbus One Building, University Hospitals' Ireland Cancer Building [Mentor] and four sculptures at its Seidman Cancer Center [main campus] and downtown's Ohio Savings Building) until his dad's passing in 2001. "Like so many artists, I found a steady job first. I was a welder for Local 17 and always assisted my dad but when he passed, I knew it was time for me to pick up where my dad left off and become a fulltime artist." It took Schmidt another eight years before completing the transition from working class to creative class. "My dad taught me freedom to be what I wanted and how to succeed at it. Now that he's passed, there's no pressure to be anyone other than who I am." He added, "With abstract art, there is no right or wrong."
Mild-mannered and fearless, Schmidt describes his creative process as fluid and organic based on donated materials and his imagination. "I don't have anything in mind when I start but the free form evolves from my head through my hands." Listening to Schmidt describe his work, much of it seems to reflect his spiritual development. He intuitively stylizes perceived impenetrable, interconnected steel forms into emotional abstractions such as a hug, love, laughter, family, freedom or conception. Scanning his studio, he does a fair amount of work for the Jewish community and then there's his whimsical side, incorporating brightly-colored painted finishes that are often located in urban spaces. Schmidt said some of his abstract sculptures are collected by Bratenahl residents—the Howleys, Johnstons, Birches and Beckenbachs. Recent corporate commissions include:
A Future Foretold, Hilton Cleveland Downtown, Lobby, 100 Lakeside Ave.
Untitled (3), Shoreby Club, 40 Shoreby Drive
Menorah, The Park Synagogue
Phoenix Rising, Peter B. Lewis Building, home of Weatherhead School of Management at Case Western Reserve University
Playscape Bicycle Racks and Flower Baskets, Crocker Park Lifestyle Center
Bicycle Rack, Collinwood Recreation Center
Wheels on Waterloo, a children's collaborative project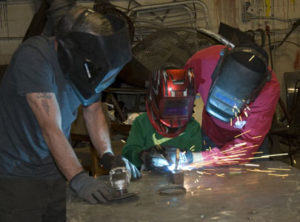 Schmidt's gift is having a positive effect on his family and the Waterloo Arts District. His son, Tyler, 22, is a fulltime metal sculptor that began metalworking at 8. In 2011, he was an Ohio's SkillsUSA Welding Sculpture Medalist. Then Schmidt's grandson, Nate, 8, is following in 'papa's' footsteps—four generations of metal sculptors. Nate, at 6, was recognized for his Rainbow Rocket metal sculpture at the City of Cleveland National Arts Program. Schmidt is happiest when the three of them are in his Waterloo 7 Studio creating together. Along Waterloo, there are five tons of Schmidt's steel sculptures and none have been tagged or stolen. "There's so much pride in Waterloo and we watch out for each other."
Giving back is a big part of Schmidt's identity. He opens his studio to young art entrepreneurs such as Kal Patterson, Savannah Quesenberry and Lauren Voiers and he makes time for neighborhood children that want to discover art. For years, he's hosted art programs for The Euclid Adult Activity Center, a group at Our Lady of the Lake Parish, and Greater Cleveland's PEP, Positive Education Program. He donates his art to a few local health-related charities; he understands the healing power of art. Schmidt may not be superhuman but he definitely has super powers.
Buy local art for a sustainable Cleveland. If you're interested in visiting Schmidt's studio or discussing a commission, email him at sculptor1121@yahoo.com